Support Our Troops
Sunday, September 03, 2023 - Sunday, September 24, 2023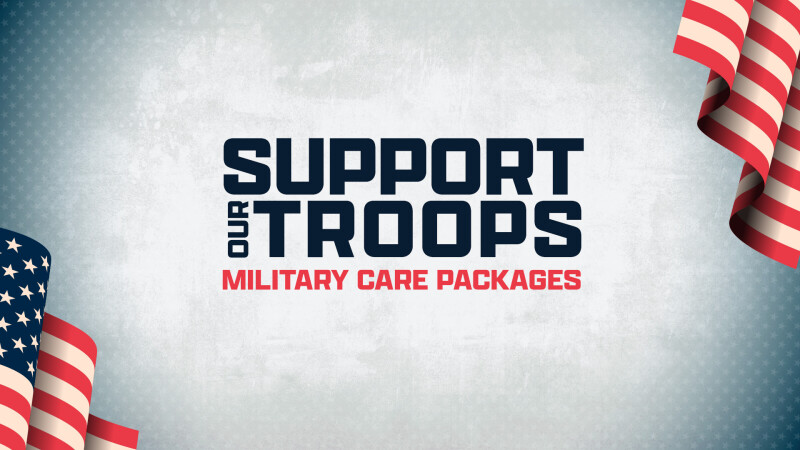 Community of Faith, along with Operation Lone Star and Back The Blue LE MC will be kicking off our 2nd Annual Support Our Troops campaign.
We will be asking for specific items to be brought to the COF campus. Cash donations will be accepted and that money will be used to purchase additional items for packaging as well as shipping costs. In addition, our partners at Roberts Road Elementary and Goodson Middle School will be writing letters to our troops to be included in the packages."
We will host a booth in the lobby to collect donations, a list of requested items can be found below.
Requested Items To Donate:
Keep appropriate items small (travel-size or sample size) so it can fit in a pocket. Please note that homemade food items can not be sent due to military regulations. Single-serving and easy to open food items are best (as can openers and electricity are not always available).
Personal-Care Items
Hand/Toe Warmers
Chapstick, Carmex
Saline Eye Drops
Lubriderm Lotion
Aspirin, Motrin, Tylenol, Pain Relievers
Nail Clippers
Socks (Cotton, Boot cut. Black)
Disposable Razors
Deodorant
Foot Powder
Fun Stuff
Frisbees
Decks of Cards
Nerf Footballs
Hacky Sacks
Small Handheld Games
Dominos
Non-Perishable Food Items
Coffee, Hot Chocolate,Tea
Pop top cans of Ravioli
Drink Mises (Tang, Gatorade, Crystal Light)
Gum, Lifesavers
Nuts, sunflower seeds, peanuts, trail mix
Vienna Sausages
Power bars, protein bars, nutritional bars
Pop Tarts/Cereal Bars
Beef jerky and Slim Jims
Tuna Packets
Small bags of snacks or individually wrapped snacks
Fruit Cups
Cookies, Candy
Peanut Butter Crackers